George Murdoch, popularly known by his ring name Tyrus, is a professional wrestler, author, television personality, commentator, and actor. He has made a name for himself in the wrestling industry with his great character and impressive strength.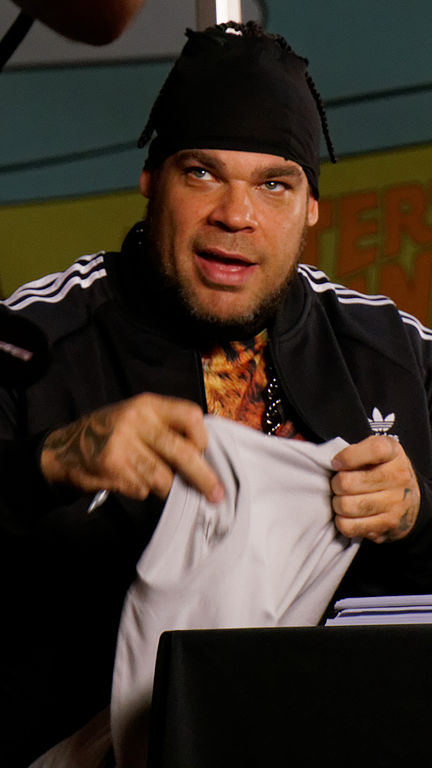 Tyrus has worked with WWE, Impact Wrestling, and NWA. He has appeared on various television shows and media platforms, making him a household name in America. Keep reading to know more about his Personal Life, TV Career, Salary, and much more.
Quick Info
Real Name- George T. Murdoch
Nick Name- Tyrus, Brodus Clay, G-Rilla, Monstrous BC, The Funkasaurus, The Mastodon of Mayhem, The Super Sexy Suplex Machine, Tyrus Smash
Hometown- Boston, Massachusett, USA
Birth Date- 21 February 1973
Age [as of 2023]– 50 Years
Height- 6′ 7″ (2.01 m)
Weight- 170 kg / 375 lbs
Nationality- American
Ethnicity- Biracial
Early Life & Background
Tyrus was born on 21 February 21, 1973, in Boston, Massachusett, USA. He did not have an everyday life as a kid, as his parents were separated. He spent most of his childhood with a foster family.
#Parents
Tyrus is biracial as his father was black and his mother was white. When he was born, his father was only 19, and his mother was 15. He has one younger brother.
#Education
Tyrus completed his schooling at Quartz Hill High School in Los Angeles county in 1990. After finishing school, He attended Antelope Valley College in Lancaster, California. Tyrus went to the University of Nebraska at Kearney and graduated with a degree in Education.
Tyrus was a standout football player in his school days, but it ended after surgery made him permanently limp in one leg.
Career in Wrestling
George Murdoch began his professional wrestling career in 2006 after signing a contract with World Wrestling Entertainment (WWE). He was assigned to the company's developmental territory, Florida Championship Wrestling (FCW).
He started wrestling under the name G-Rilla. He made a name for himself as a powerhouse wrestler until his contract with WWE ended in 2008.
After a gap of 2 years, Tyrus made a comeback and resigned from a contract with WWE, and he was once again assigned to FCW. He wrestled in the FCW arena with his old name G-Rilla. Later in 2010, he changed his ring name to Brodus Clay.
#WWE
By the end of 2010, Tyrus managed to debut his in-ring fight on WWE's NXT show. In 2012 he made a television comeback under the name "The Funkasaurus." He got real success as a wrestler, winning 23 matches in a row.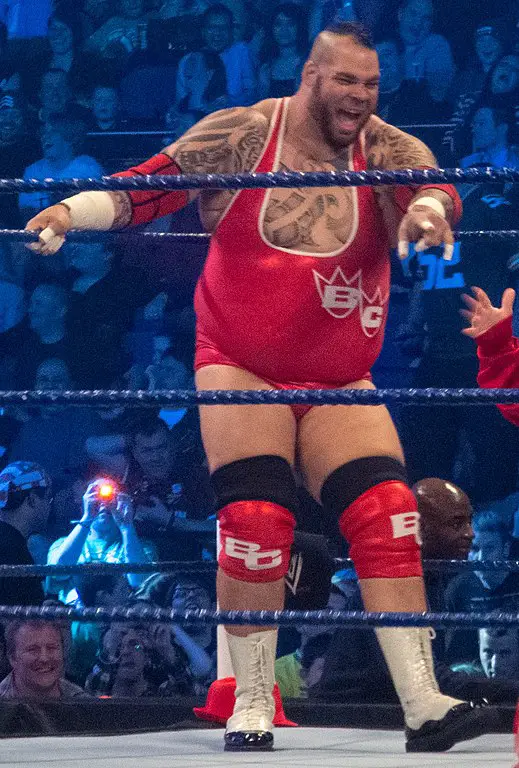 Tyrus went on to appear in WWE Smackdown, Royal Rumble, and WrestleMania XXVIII. BIG SHOW broke his 23-match winning streak on SmackDown.
#Impact Wrestling
In 2014, Murdoch ended his WWE contract; he then moved to TNA, now known as Impact Wrestling, where he worked under the ring name Tyrus. He had a successful run with the company and held the Impact World Tag Team Championship once.
#Independent Circuit
In 2018, Tyrus began working on the independent circuit after his stint at Impact Wrestling was over. He wrestled in House of Hardcore and House of Hardcore 52. Tyrus  Went on to work in the independent arena for the next 3 years until his alliance with the NWA.
#NWA
Tyrus signed a contract with NWA in 2021. He quickly made an impact in the company, becoming a regular on the roster and winning the World Championship after defeating Trevor Murdoch.
Career as a News Commentator
In 2016, Murdoch joined the Fox News Channel as a commentator and personality; he appeared on various Fox News shows, including The Greg Gutfeld Show, The Five, The Daily Briefing, Un-Pc, and Nuff Said. He often appeared as a Fox News guest with famous Hosts and TV hosts like Dana Perino and Katherine Timpf.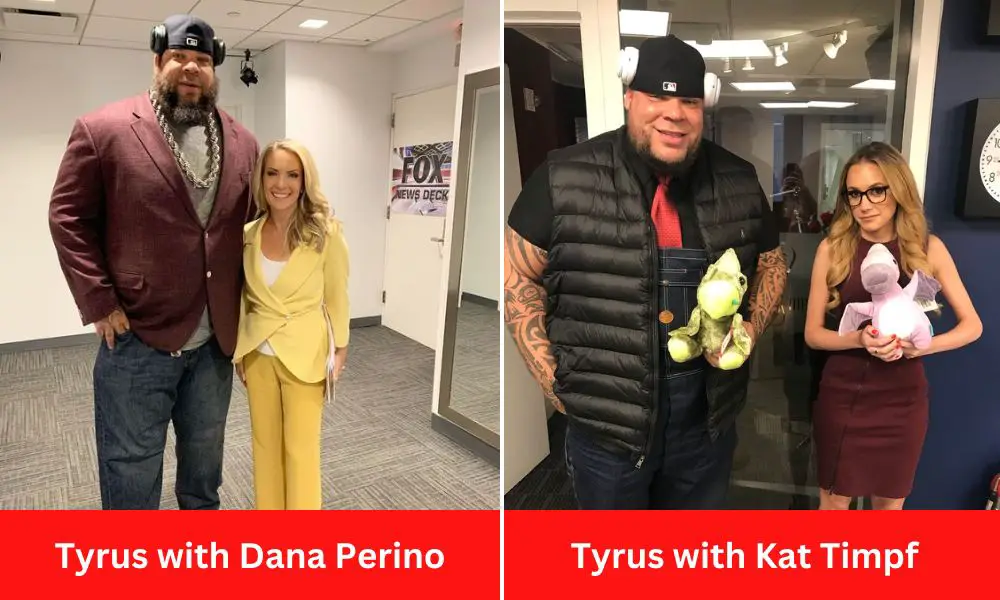 Films and TV Shows
Tyrus, apart from wrestling, was also made into acting in films and TV shows. He has been a regular and popular panelist in Greg Gutfield's show. Apart from this, he has appeared in other TV shows such as Glow, Preacher, Syn, Macgyver, Love, The Purge, Nuff said, etc.
Some of the films he appeared in are No One Lives, Scooby Doo, Wrestlemania Mystery, Supercon, Enuatti, Stand on it, Poker Run, etc.[1]Wikipedia.org
Accomplishments and Awards
Here's a list of some of Tyrus' notable accomplishments and awards in his professional wrestling career:
| | | |
| --- | --- | --- |
| Title | Organization | Year |
| NWA World's Heavyweight Championship | National Wrestling Alliance | 2022(Current) |
| NWA World Television Championship | National Wrestling Alliance | 2021 |
| PPW Heavyweight Championship | Pennsylvania Premiere Wrestling | 2016 |
| Ranked No. 74 of the PWI 500 | Pro Wrestling Illustrated | 2012, 2013 |
| Bound for Gold | Total Nonstop Action Wrestling | 2015 |
| Best Dancer of the Year | WWE Slammy Award | 2012 |
Personal Life
#Girlfriend
Tyrus kept his personal life relatively private until he met with his current girlfriend and would-be wife Ingrid Rinck. The chemistry between the wrestler and the businesswoman started in 2012. Ingrid gave birth to their daughter Georgia Murdoch in 2014.
#First Wife
Before Ingrid Rinck, Tyrus has not publicly disclosed any information about his first wife or notable relationships.
#Children
Tyrus' daughter Georgia Murdoch is 9 years old [as of 2023] and lives with her mother, Ingrid, and her 2 half brothers, Rhett and Rock.
Controversies
In 2019, Britt McHenry, his co-host of the show "Un-PC," accused George Murdoch of sexual harassment. Fox News investigated the matter and resolved it. Later in 2019, McHenry filed a sexual harassment lawsuit against Fox News and Murdoch. She voluntarily dismissed the lawsuit in 2021 as part of the out-of-court settlement.
Net Worth
The net worth of George Murdoch, AKA Tyrus, is approximately $2 million. He has amassed this fortune from his salary and earnings as a professional wrestler, actor, and TV commentator.
Greg Gutfeld & Tyrus
George Murdoch (Tyrus) is a regular guest on Greg Gutfeld's show "The Greg Gutfeld Show" on Fox News. Tyrus is a guest commentator and political analyst and has been a regular panelist on the show since 2016. He and Greg Gutfeld have a friendly on-air chemistry.
Tyrus as Bodyguard
Tyrus worked as a bodyguard for American Rapper "Snoop Dogg." The real name of Snoop Dogg is Calvin Cordozar Broadus Jr. Later in his career, Tyrus used Broadus as his ring.
Tyrus is now working as the bodyguard of Dana Perino; he often appears on Fox News.
---
Read More: Emily Compagno
Was this article helpful?