Gillian Schieber Flynn was born in Kansas City on February 24, 1971.  Flynn is an award-winning author, comic book writer, screenwriter, and former Entertainment Weekly TV critic. She has written three mystery books: Sharp Objects, Gone Girl, and Dark Places. 
All three of her books have been adapted for the cinema or television, which has helped them become more well-known and popular. She has won a lot of accolades and recognition for her work.
She has won numerous honors, such as Edgar Award for Best Short Story (2015), CWA New Blood Dagger (2007), the CWA Ian Fleming Steel Dagger, and many more. She is one of the best writers and has established a solid reputation through her writing skills.
[ez-toc]
Bio/Wiki
Real Name
Gillian Flynn
Nickname
Gillian
Profession
Writer
Personal Life
Birth Date
24 February 1971
Age [as of 2022]
51 years
Birth Place
Kansas City, Missouri
Nationality
American
Zodiac Sign
Pices
Occupation
Novelist, Author, Critic, and Screenwriter,
Father
Edwin Matthew Flynn
Mother
Judith Ann
Spouse
Brett Nolan
Renowned Work(s)
Sharp Objects, Dark Places, Gone Girl, The Grownu
School
Bishop Miege High School
College/Universities
University of Kansas, Medill School of Journalism
Education
Degree holder in BA and MFA
Graduation Year
1989
Physical Stats
Height (approx.)
in centimeters- 168 cm
in meters- 1.68 m
in feet inches- 5'6"
Weight (approx.)
in kilograms- N/A
in pounds- N/A
Career
Debut
Sharp Objects [2006]
Relationships & Affairs
Marital status
Married
Husband
Brett Nolan [m. 2007]
Family
Parents
Father- Edwin Matthew Flynn
Mother- Judith Ann
Siblings
Brother- Travis [older]
Children
Daughter- Veronica Nolan [b. 2014]
Son- Fynn Nolan [b. 2010]
Income
Net Worth [approx.]
$12 million
Social Media
Instagram
@thegillianflynn
Twitter
@thegillianflynn
Facebook
@authorgillianflynn
Early Life/Biography 
Gillian was raised in the Coleman Highlands neighborhood of Kansas City. She was born to Judith Ann and Edwin Matthew Flynn, both of her parents had academic positions at Penn Valley's Metropolitan Community College.
When she was a young woman, she worked odd jobs, including dressing as a giant yogurt cone and wearing a tuxedo. Her father teaches film, while her mother teaches reading. She devoted an excessive amount of her adolescence to reading books and watching films.
She recalls fondly being forced to give up A Wrinkle in Time at the family table; it was a happy childhood for her. While she was growing up, Gillian was extremely shy and kept to herself most of the time, reading and writing.
There is speculation that Flynn was an introverted, shy child. Watching comics, reading books, and sometimes writing stories were her favorite ways of communicating.
When Gillian was older, she and her father enjoyed watching scary movies, including slasher flicks with maniacal characters like Freddy Krueger or Jason Voorhees, as well as classic scary stories like the bloodthirsty zombies.
Gillian Flynn's Family
In their respective fields, the parents of Gillian Flynn, Judith Ann (mother), was an instructor of reading comprehension, and Edwin Matthew Flynn (father), an educator of film. Gillian's older brother, Travis, works as a machinist on a train.
Brett Nolan, Gillian Flynn's long-term boyfriend, is now her husband. When Flynn relocated from New York City to Chicago in her mid-30s, she entered graduate school at Northwestern University, where the pair initially connected with the help of a classmate.
They eventually started interacting with one another. After spending time together, they fell in love and their love tale began. Finally, the wonderful pair said "I do" in Kansas City in 2007.
Since then, their love has only grown deeper and they are still together. Their close friends and family were invited to their marriage ceremony. They have two children, a son, Fynn Nolan who was born in 2010, and a daughter, Veronica Nolan born in 2014.
Education
1989 marked the graduation year for Gillian Flynn from Bishop Miege High School. Gillian went on to the University of Kansas where she earned a bachelor's degree in journalism and English.
Flynn relocated to Chicago after spending two years in California working on human resources for a trade journal. During her time at Northwestern University, she earned her master's degree in journalism.
Gillian Flynn's Career 
Originally Gillian Flynn made up her mind to work as a police reporter, but she eventually decided to concentrate on her writing as she felt she lacked the necessary skills to become a police reporter.
Before being employed as a feature writer at Entertainment Weekly in 1998, Gillian served as a freelancer in the U.S. News & World Report following her graduation. She later worked her way up to become a television critic and began writing movie reviews.
She credits her fifteen-plus years in journalism for her skills. She said that she would not have written a novel if she was not a journalist, as it helped her that no inspiration would automatically come to us and we would start writing. It's up to us to take action.
Because of the frequently negative portrayals of female characters in her fiction, some critics have criticized Gillian for being misogynistic; nonetheless, she considers herself to be a feminist.
While working for Entertainment Weekly, Gillian wrote three books, one of which, Sharp Objects, was nominated for numerous accolades. It was The Dark Places, her second book, which was made into a movie under the direction of Giles Paquet-Brenner.
Gillian's third book, Gone Girl, was released in 2012 and eventually turned into a 2014 film with the same name, which was very popular and successful. Over 2 million paper and electronic editions of the book were purchased, and it was the top-ranked hardcover fiction book in the New York Times.
Let's look at the details of these three books written by Gillian Flynn.
#1 Sharp Objects
It is not unexpected that Flynn's debut novel, "Sharp Objects," which was published in 2006, immediately became a success. It is significant that Stephen King, who is sometimes referred to as the "King of Horror," enjoyed Gillian's initial work, and she backed two coveted Crime Writers' Association Awards in the year 2007.
The focus of "Sharp Objects" is a journalist trying to make a sensation and a murderous lunatic who targets young girls. The story takes place in a sleepy community where the locals conceal a sinister secret.
The author seemed to be writing on a subject that has been covered frequently in literature and film for decades, yet Gillian found fun and fresh way to present it. Therefore, readers who enjoy crime fiction will dive into this book to learn all there is to know about a serial killer. This book was a big success and ended up winning three awards.
#2 Dark Places
Flynn's second book in her career is titled "Dark Places," which was published in 2009. It is rife with melancholy, tension, gloom, malice, and terror. Libby Day, the book's protagonist, went through a tragedy as a young child.
Her mother and two sisters were brutally murdered at night, and her older brother, Ben Day, an occultist, was charged with the crimes. Libby decided to revive the inquiry after many years because the police were unable to establish the man's guilt.
Several readers' blood curdled and their skin crept as a result of Gillian's masterful depiction of the ominous environment and the murder sequences.
Gilles Paquet-Brenne, a popular director and screenwriter, turned the book "Dark Places" into a Hollywood film in 2015. It should be noted that not all moviegoers who had read Gillian's psychological novel before the screening were enthralled by the French director's translation.
Many critics thought the main protagonist, Libby Day, who was slack, and clumsy, felt she had been mistreated, and lived on welfare, was unrelated to the attractive actress Charlize Theron. Some critics claim that the thriller's author overlooked many nuances and failed to capture the terrifying environment.
#3 Gone Girl
Flynn won numerous prestigious accolades when Gillian's third best-selling book, "Gone Girl," was released in 2012. The plot centers on a girl who vanished under unexplained circumstances. Due to the journals, the police discovered her husband had become the primary suspect in this complicated case.
Gillian's book inspired David Fincher to direct the action-thriller "Gone Girl," where Ben Affleck and Rosamund Pike thrilled the audience with their acts and became a big success thanks to the creative writing of Gillian Flynn.
Gillian Flynn acknowledged that when writing the book, she pictured every scenario as if Fincher had directed the film. Therefore, Flynn took a while to believe the filmmaker when he indicated he was prepared to make this movie. 
With the publication of "The Grownup," which won Flynn the Edgar Award, Gillian delighted her readers in 2015. The protagonist of this tale is a woman who poses as a clairvoyant.
She thus earns a living by deceiving innocent people. As soon as he learned about Susan Burke, who alleged that some malevolent spirit inhabited her old home, the main character couldn't resist the chance to make a tidy profit.
Physical Appearance
Gillian Flynn is a very gifted woman who also has a nice physique, a lovely demeanor, and is well-kept. She stands at 5 feet 6 inches tall, has fair skin and brown eyes that are stunning, and has beautiful black hair.
Gillian Flynn's Net Worth
Gillian Flynn is an extremely hardworking lady. With her hard work and skills, she has achieved a successful position in her life. American author and former television judge Gillian Flynn have a $12 million net worth. As a novelist, author, critic, and screenwriter, she has made enormous money.
Interesting Facts about Gillian Flynn
One well-known author about whom many people are curious is Gillian Flynn. These intriguing details about Gillian Flynn will help you get to know her better.
Gillian's husband, Brett Nolan is a lawyer and lives in Chicago's Ukrainian Village.
Following the recession, Gillian lost her position as a pop culture reporter at Entertainment Weekly magazine in New York. 
Gillian has always loved movies, which could be the influence of her father, as he was a professor of film.
A graduate of Northwestern University and the University of Kansas, Gillian Flynn holds a BA and an MFA (Master of Fine Arts).
Previously, she worked for Entertainment Weekly as a television critic.
Her Zodiac sign is Pisces.
She has two children, a son, Fynn Nolan, and a daughter, Veronica Nolan. 
Fiction, thrillers, and mysteries are among the genres of Gillian Flynn's writing.
Schieber is Gillian Flynn's middle name.
Sharp Objects is the first novel by Gillian Flynn.
---
Read More: Kristin Hannah | Fiona Barton
Sources:
https://en.wikipedia.org/wiki/Gillian_Flynn
https://www.imdb.com/name/nm5058839/
https://www.britannica.com/biography/Gillian-Flynn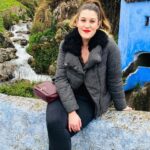 Linda Brown is the Author & Editor of this Blog. She is a fashion designer, a Dog lover, and a proud mother of two kids. Linda is a fan of Movies, TV Shows, Theaters, and Books by almost every author. Her Favourite hobby is listening to retro and suspense stories. Read more about her >>
Was this article helpful?