Born on May 20, 1911, Gardner Fox was best known for creating several comic book characters for DC comics. He was an American writer who wrote more than 4000 stories, 1500 of which were written for DC comics.
He is not only a comic writer but also a science fiction author who was the first to introduce the concept of Multiverse to DC comics in the story "Flash of Two Worlds!", in 1961. In his career, he wrote many novels and short stories.
Some of his major works, which he co-created, include "The Original Flash", "Hawkman", "original Sandman", "Barbara Gordon", "Doctor Fate", "Zatanna", "Justice Society of America", and later recreated the team like the "Justice League of America".
Bio/Wiki
Real Name
Gardner Francis Cooper Fox
Nickname
Gardner Fox
Profession
Writer
Personal Life
Date of Birth
20 May 1911
Date of Death
24 December, 1986
Age When Died
75 years 7 months 4 days
Birthplace
Brooklyn, New York
Nationality
American
Hometown
Brooklyn, New York City, United States
Zodiac Sign
Taurus
Religion
Roman Catholic
School
N/A
College/University
St. John's College
Educational Qualification
Law Degree
Physical Stats
Height (approx.)
in centimeters- N/A
in meters- N/A
in feet inches- N/A
Weight (approx.)
in kilograms- N/A
in pounds- N/A
Career
Beginning
Flash Comics (Jan. 1940)
Award(s)
1. Two 1962 Alley Awards
2. 1963 Alley Award and 1965 Alley Award
3. Harvey Award
4. Bill Finger Award
Relationships & Affairs
Marital status
Married
Wife
Lynda
Family
Parents
Father- Leon Francis Fox
Mother- Julia Veronica
Siblings
N/A
Children
Son- Jeffery
Daughter- Lynda
Grandchildren
Four
Income
Net Worth [approx.]
$1.5 Million
Social Media
Instagram
N/A
Twitter
N/A
YouTube
N/A
Early Life and Family
Gardner F. Fox was born in Brooklyn, New York City, to Leon Francis Fox and Julia Veronica. His father was an engineer, and his mother worked as a gardener.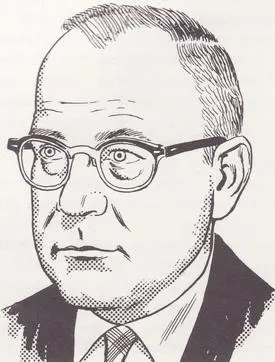 At an early age, he got inspired by great fantasy fiction writers. On his birthday, he was gifted a book "The Warlord of Mars by Edgar Rice Burrough" and "The Gods of Mars," which instilled a passion in him.
Education
Talking about his education, not much about his schooling is known to us, but Gardner Fox graduated from St. John's College with a law degree and practiced as a lawyer for around two years.
Gardner Fox's Career
Fox worked as a lawyer from 1935 to 1937. After realizing that one can make more money through writing fiction, he quit law in the latter years of the Great Depression. He applied and got a job at DC Comics. He came up with ideas like Batarang while writing Batman stories back in 1939.
In the 1960s, they became very popular in TV series. In 1935, he got admitted into the New York bar. After practicing for two years, he left it and started writing during the Great Depression.
He worked under the DC comic editor Vin Sullivan and conducted numerous real-world historical and scientific research. He contributed science fiction pulp stories to magazines in the 1930s and 1940s. His debut was as a writer in Detective Comics. He was also said to be a polymath.
Characters such as Dr. Fate, the Flash, Johnny Thunder, the Sandman, Bahdnisian Thunderbolt, Hawkgirl, and Hawkman were created by Gardner Fox in the Golden Age of comics.
It is said that he was possibly inspired by the winged bat-men of Flash Gordon serials for Hawkman and Hawkgirl, and for Sandman, he was inspired by the Green Hornet.
Gardner Fox did not want to be tied to only one company, so he also contributed some works for Timely and EC comics. "The precursor of Marvel" was written for Timely.
His writings constitute a wide range of genres from Western side and science fiction, Superhero comics to teen humor comics. Superhero comics thrived during the 1940s and Westerns, and science fiction and teen humor comics replaced the trend in 1951.
In true words, he experimented with writing in all the genres giving the world some legendary books. Amazing Stories and Planet Stories were the stories written by Gardner Fox for pulps.
Alanna in "Mystery in Space" and the interstellar exploits of Adam Strange was written by Fox in 1960, with Mystery in Space being his beloved comic.
He revived many of the superheroes of the 1940s through his writings in those great years of the Silver Age. This constant shift in genres has garnered him many new audiences. It is said that he used a science-fiction device. That is called as the earlier heroes lived in a parallel universe on Earth-2 during those years.
After contributing thousands of books to the comic book industry, in 1968, he transitioned into science fiction. He started writing science fiction novels in the same year and contributed renowned novels such as "Arsenal of Miracles" and "Escape Across the Cosmos."
He also wrote sword-and-sorcery adventures, which is said to be mystery writing. These writings of his amount to over 100 novels. Gardner Fox wrote about hunting and rifles in his novels since it was said that he was an excellent marksman.
He spent most of his free time hunting. That is one of his hobbies. Gardner Fox also tried his hand at writing romance novels during his retirement years.
He wrote them under the pseudonym, Lynna Cooper. His career ended when he died at age 75. At that time, he had two children and four grandchildren.
Relationship, Wife, and Children
He married Lynda and had a son, Jeffery, and a daughter named Lynda. He also has four grandchildren.
Net Worth
According to reports, he had a net worth of 1.5 million dollars. He has written so many books and created a legacy of his own.
He lived in his own house, and many speculate that he began writing with the sole reason of earning a hefty sum of money while that's not the case.
Interesting Facts about Gardner Fox
In one of his talks, Fox said, "I maintain two file cabinets chock full of stuff, and the attic is crammed with books and magazines. For everything about science, nature, or unusual facts, I can go to my files or the at least 2,000 books that I have."
Gardner Fox also said he read all of Burroughs, Talbot Mundy, and Harold Lamb and maintained copies at his home in his library even some 50 years later.
---
Read More: Kathy Reichs | Jim Lee
Sources:
https://en.wikipedia.org/wiki/Gardner_Fox
https://dc.fandom.com/wiki/Gardner_Fox